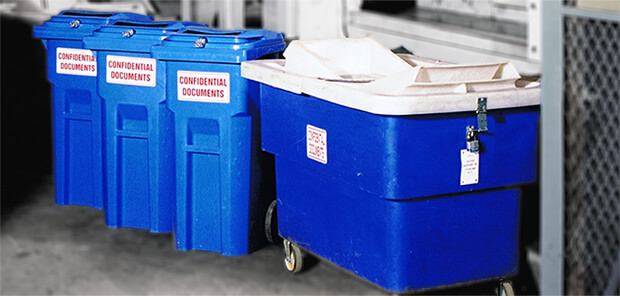 The Importance of Lockable Shred Bins
Document shredding is critical in protecting sensitive information from exposure, but what's of equal importance is the way in which documents are managed and disposed before destruction.
What does this mean exactly?
Far too often, recycling bins are used for more than standard recyclable material; while paper is of course recyclable, it should only be placed in your recycling bin if it is 100% free from sensitive content. If your employees are tossing customer files, budgets, marketing plans, or price lists carelessly into your blue bins because of sheer convenience, this can present many problems for your business in the future.
Recycling bins lack security; without locking mechanisms anyone is free to sort through your bin, which means theft can easily occur and can lead to fraudulent behaviour if discovered by the wrong individual. Not only that, your compliance is on the line if you fail to properly protect sensitive documents. You must meet demanding compliance rules and regulations, and you need to ensure you do everything possible to protect your employees, customers, and business from information exposure.
Shred Bins Keep Your Information Safe
If you have records that are no longer relevant but do contain information deemed sensitive, but always place these in secure, lockable collection bins, and NOT your recycling bin. At Tri-State Shredding, we provide our clients with these bins free of charge, when you arrange a scheduled document shredding program with our team.  We will service these containers on-site at your location once they reach capacity or once your pre-arranged service date arrives.
Container Types
When clients require scheduled shredding services, either regularly or semi-regularly, it is important to ensure proper storage while they await shredding. Secure shred bins and containers are the perfect option for a secure and organized way to store sensitive records. Tri-State Shredding offers many different types and sizes of containers so you can select the one that best suits your needs. We have a variety so you can choose the type and size that fits in with the décor, space limitations, and location of your office. These containers include consoles with bags, small and large bins on wheels and larger consoles. All are equipped with locks to maintain your confidentiality. Not sure how many or what type of containers you need? We've got you covered; our team can advise on everything from number and size, to how frequently you should request a shredding job. Our lockable containers and consoles make it easy to adhere to compliance state privacy laws, while keeping your office environment clutter-free and organized.
Getting a Secure Shred Bin
After contacting Tri-State Shredding for a secure bin, our helpful and professional staff can work with you to help determine the best location to maximize ease of access to ensure no loss in productivity. These bins help streamline the shredding process, when Tri-State staff arrive they will simply empty your storage bin(s) into a shred bin and load it into the shred truck for disposal. One emptied, the bin(s) are returned to their locations and the storage to shred process begins anew with minimal interference in efficiency.
Shred Containers
For large capacities, you'll want to take advantage of our shred containers that can easily be wheeled into position wherever you wish to situate them. Store them conveniently next to your copy/printing machine or in your boardroom for maximum use. Placing these in high traffic areas will remind your employees to be responsible with their document disposal habits, encouraging them to use them appropriately for all confidential documents requiring shredding.
Available in a 95- or 65-gallon container
Equipped with a locking mechanism for Locked security
Can hold close to 300 lbs of paper
Built-in paper slot provides easy disposal
95 gallon dimensions: 44.5″H x 25″W x 35.25″D
65 gallon dimensions: 42.5″H x 24.5″W x 27.5″D
Shred Consoles
If you prefer a bin that is more aesthetically pleasing to the eye and can blend into literally any office environment, the shred console is for you. It has a simple, sleek design that makes it appear more like a piece of furniture than a shred console. Place one next to your desk or in a common room for easy and fast disposal.
A more attractive security container that suits any office
Light grey
Lockable for total security
Paper slot offers easy and quick access
35 inch Dimensions: 35″ H x 19″ W x 17″ D
24 inch Dimensions: 24″ H x 19″ W x 17″ D
Call us today for a free consultation, and we'll help you decide which of the bins and consoles will work best for your shredding needs.
** No hidden rental fees and no container costs to customers requiring a monthly pickup service.
Contact us today