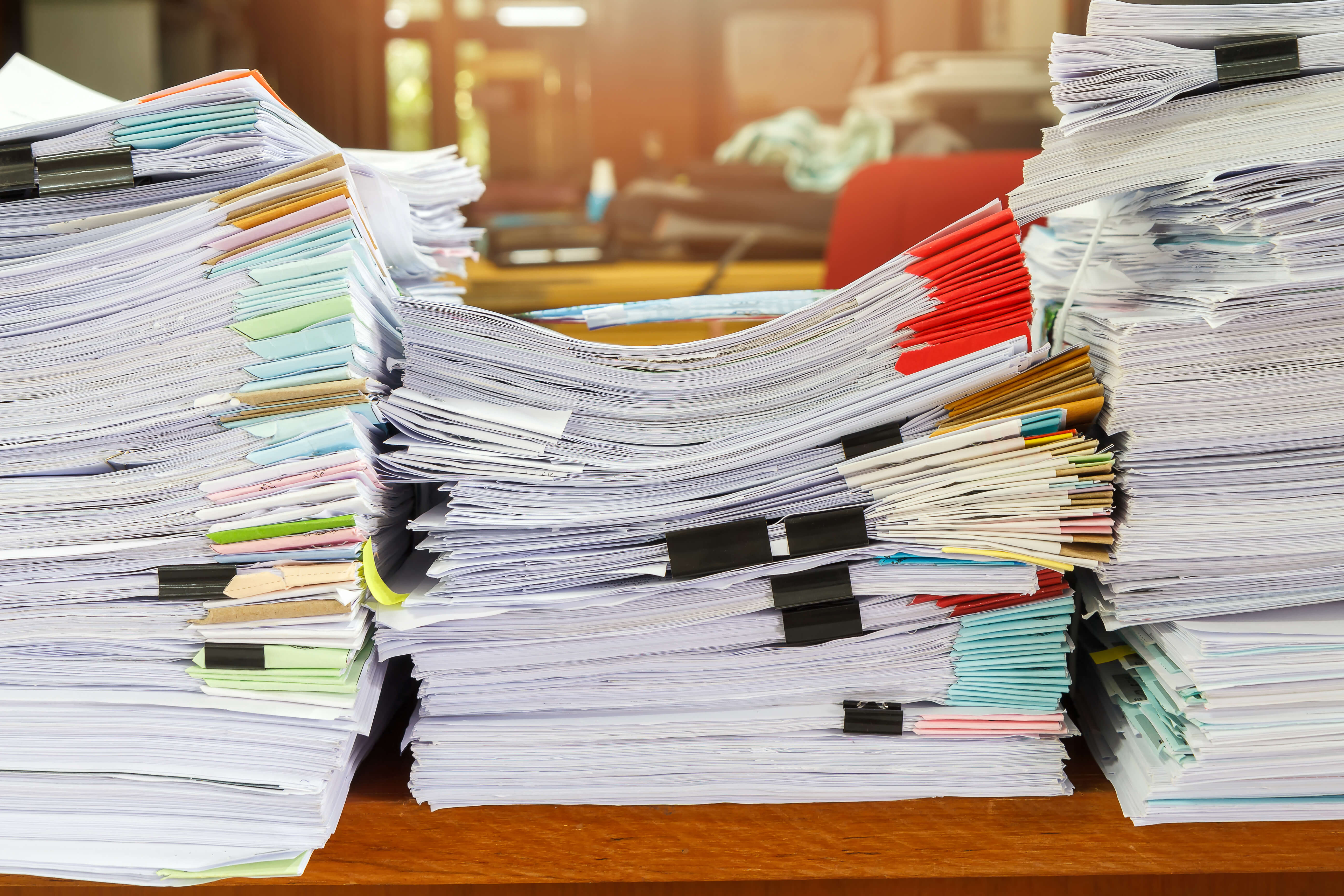 You know why you're currently shredding documents at your office; to protect the privacy of sensitive matters of course. But is your office shredder really a reliable source of security? How many times have you had to open it up and pull out jammed papers? Did you know that the strips leftover from an office shredder can actually be put back together quite easily if the intent is there?
There are many reasons to ditch the officer shredder and consider outsourcing your document shredding needs.
Choosing to partner with a professional document shredding service, guarantees you receive efficient, secure, compliant, and fast service.
Let's takes look at the downfalls of office shredders:
They Break Down and are Unreliable 
Paper shredders aren't designed to sustain on-going shredding, and they are known for breaking down. With that said, how can you rely on this little machine to properly handle the destruction of your documents? The answer is, you can't. If you work in a busy office and generate numerous files regularly, you may face maintenance issues or have to replace the shredding machine all together. Officer shredders typically overheat, jam up with paper, and eventually the shredding blades become dull.
All of these nuisances contribute to frustration. If your office shredder isn't working, it is probable that what was once collected for shredding, will now wind up in your recycling or garbage bin, which is a recipe for disaster. Confidential documents will quickly become susceptible to exposure and theft and it will be entirely out of your control at that point.
Unlike office shredders, a professional paper shredding service is 100% reliable. Shredding professionals are highly trained, background checked individuals, who practice and adhere to the highest levels of industry standards. In other words, your documents are fully protected from the moment they are collected, through until the destruction process providing that additional peace of mind. Once complete, you receive a Certificate of Destruction, documenting the time and date of shredding.
Using One Actually Increases Security Risks
Most office shredders tend to shred papers into long, thin strips, which are easily reconstructed. Anybody with too much time on their hands and a degree of dedication could sift through the remains and rebuild each page, and then they have all the information you tried to destroy.
Professional shredding reduces papers to fine confetti, making reconstruction completely impossible.
Next there is the issue of determining what to shred and what to keep. Relying on your employees to decide this can be a significant security risk. If files aren't shredded on time, or worse tossed in the recycling bin because they are deemed "safe" to throw away as is, a thief or even competitor could easily get their hands on this information.
The good news is, it's easy to get rid of these security risks entirely. Working with a NAID AAA Certified shredding company, means you receive service by a team that is committed to compliance through strict regulations and practices, including a chain of custody. It also means your documents have been destroyed according to state and federal privacy legislation, so if you are ever to be audited down the road, you can rest assured in knowing your business is legally compliant.
Productivity Levels Will Drop Among Employees
Consider the resources and time needed to operate a shredding machine. While initially it may not seem like a big deal, office shredders require an individual to manually feed each paper into the machine, which if you have piles and piles of paper to destroy, can add up to hours in a day pretty quickly. Not only that, you must remove staples, clips, notes, binders, and anything else that could cause the machine to jam; again, time consuming tasks.
Time is money, and when your employees are spending their working hours shredding documents, this takes valuable time away from what they were hired to do;  perform their individual job duties. It can also create noise and distraction for everyone else in the room, again impacting overall productivity levels in your office.
When you opt for a professional shredding service, you regain this precious time and of course productivity levels don't take a hit in the process.
Tri-State Shredding is Here To Help
A professional paper shredding service like Tri-State Shredding, will remove this task from you entirely.  If you could benefit from on-going document shredding, our scheduled service is the most ideal option. With it, you are provided with lockable collection bins, allowing you to safely store all files until our team arrives to perform the shredding process.
Using industrial-grade equipment, either on-site at your building or off-site at a plant-based shredding facility, your files will be shred beyond recovery, recycling all leftover particles.
If we've managed to convince you, or if you have some questions, get in touch with us. We'll help you out with your needs and close as many vulnerabilities as possible.