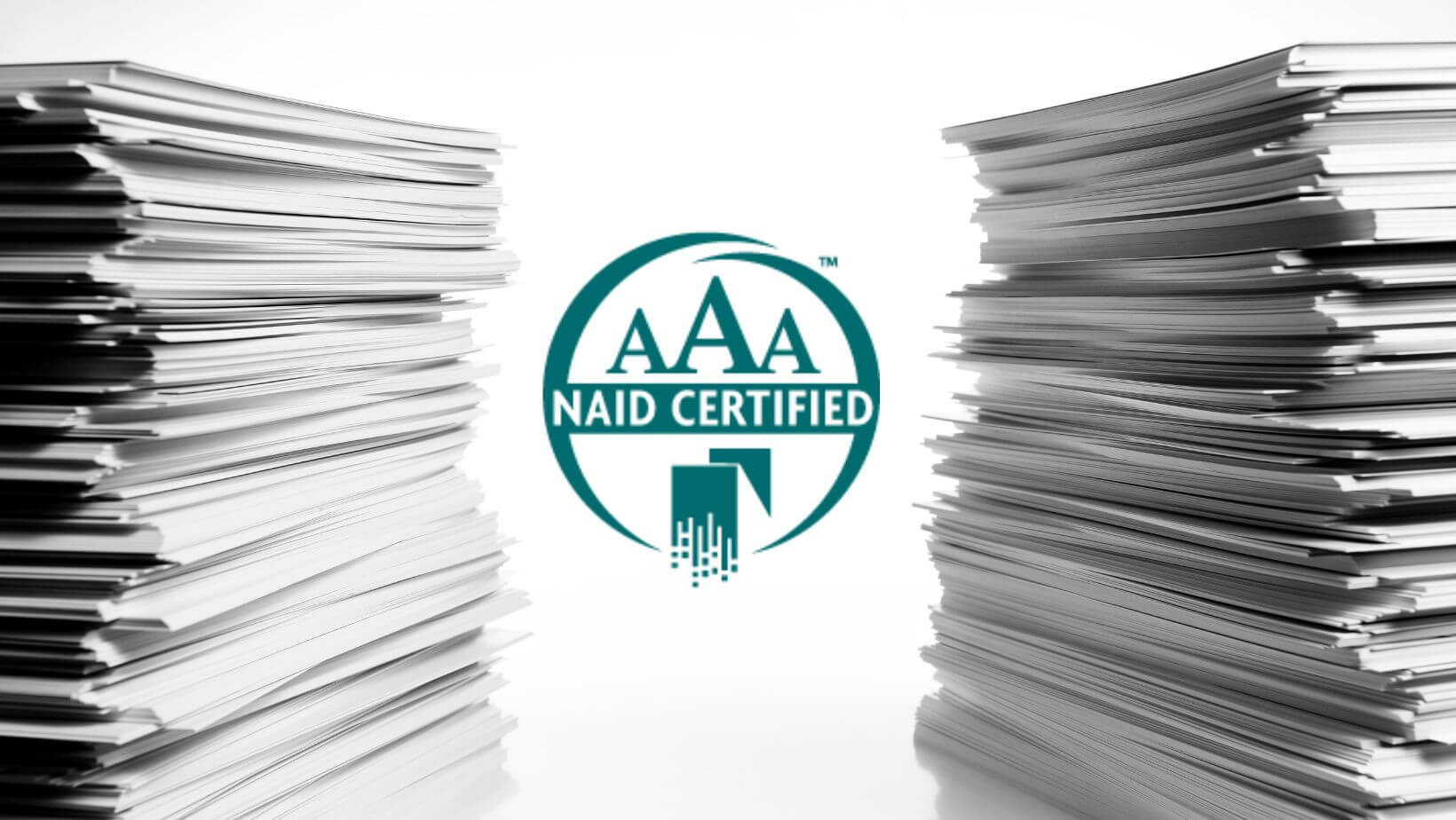 When it comes to shredding services and document destruction, NAID certification provides the highest level of security and peace of mind. With Tri-State Shredding's NAID certification, Harrisburg businesses and consumers can be confident that their sensitive documents will be destroyed properly. Here's a closer look at the advantages of working with a NAID certified shredding company.
What is a NAID Certification?
The National Association for Information Destruction (NAID) is the world's leading trade association for companies that provide shredding services and document destruction. In order to become NAID certified, a company must pass a rigorous audit process conducted by an independent, third-party auditor. This certification process ensures that a shredding company meets the highest standards for security and document destruction.
Highest Standard of Training and Accreditation
Certification by a third-party auditor is the gold standard for data destruction businesses. The certification program developed by NAID was developed by information security professionals and recognized by thousands of private and governmental organizations around the world.
All regional, third-party NAID auditors have earned the Certified Protection Professional accreditation from ASIS International and are extensively trained on all certification audit procedures and requirements. This accreditation instills confidence in those who certify that their data destruction business meets the highest standards for safety and security. With this high level of training and certification, NAID is the best option for businesses that want to ensure that their data destruction needs are met with the utmost professionalism.
Strictest Security Measures
Tri-State Shredding is NAID AAA certified, meaning that our auditors verify that we have protocols in place to ensure the security of confidential material throughout all stages of the destruction process. This includes handling, transporting, storing materials prior to destruction, destroying and disposing of materials responsibly. It also includes any transfer of custody scenarios. Tri-State Shredding maintains strong security standards to protect our client's information from beginning to end. We are committed to confidentiality and take our role in protecting your information seriously. Keeping your information secure is always our top priority.
Assurance of Compliance and Reliability
In order to protect the public and uphold the standards of the certification, the Certification Review Board (CRB) tracks reports of non-compliance and takes immediate remedial action to bring certified companies back into compliance. The CRB conducts regular reviews of certified companies, and any infractions will be noted.
If a company is found to be out of compliance, it will be given a chance to remedy the situation. However, if a company is found to be in violation of the certification standards on a repeated basis or if they fail to take corrective action, they may be fined and/or have their certification revoked. The CRB is committed to protecting the public and ensuring that only certified companies are allowed to operate.
NAID certification is the highest standard of training and accreditation in the document destruction industry. Tri-State Shredding is a NAID-certified company, which means that your confidential information will always be handled securely and responsibly when you work with us.
Tri-State Shredding has been proudly certified since 2003, and we continue to maintain the strictest security measures to ensure compliance and reliability. Contact us today to schedule a free consultation and see how our NAID certified shredding services can benefit your business!